Recently, STEPN made public its intention to cut off access to users from mainland China. From July 15, they will see their GPS services cut off, and as a corollary they will no longer be able to play.
STEPN: deprivation or restriction?
STEPN spoke instead of a reduction (or restriction) of services for its users residing in mainland China. But given the announcement last Thursday, it will be more of a deprivation. Since the communication in question talks about cutting access to local players in order to comply with local regulations.
Here is the translation (from Mandarin to French) of this message published on the official account of STEPN:
" In order to actively respond to relevant regulatory policies, STEPN will carry out an inventory of software users. If users in Mainland China are found, STEPN will stop providing GPS to their accounts at 24:00 on July 15, 2022 (UTC+8) in accordance with the Terms of Service. "
STEPN, very keen on compliance with regulations
Also note the existence of follow-up posts that encourage Chinese STEPN users to " make decisions about in-app asset manipulation ". This will trigger a review process on the upcoming ban.
Considering these posts, it can be said that STEPN has not done business at all in mainland China since its launch. It doesn't even have download channels for Chinese users.
The same posts on Twitter also demonstrate STEPN's willingness to comply with local regulations and the requirements of Chinese regulators.
Note also that an English version of the tweet in Mandarin was published on the STEPN discord server 10 hours later.
Otherwise, the real reason why STEPN decided to ban Chinese players remains unknown. But we must also not forget that the local authorities decided to ban cryptocurrency-related activities in September 2021. This caused a massive exodus of players offering cryptographic services to Chinese users.
A STEPN rep named Jason hinted at a possible reason Friday morning in a Twitter thread. Indeed, part of its technical team is based in China and it seems involved with Chinese crypto regulations by working for STEPN.
Moove-to-Earn App Token Collapse
The announcement in question did not fail to cause immediate effects on STEPN's GMT and GST tokens.
GMT, the game's governance token, is down more than 20%;
GST, the main token players earn by playing, fell 15% on Solana (SOL) and 24% on BNB.
If we take into account the TH of April 28, these two tokens are down 75%.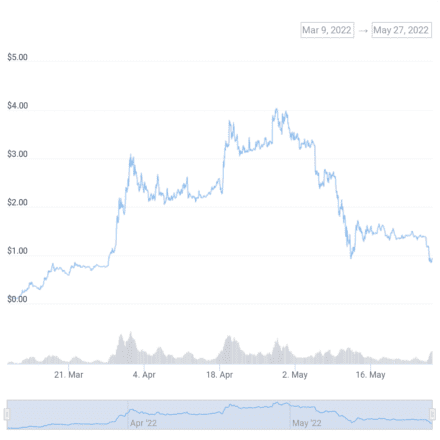 At the same time, prices for STEPN's NFT sneakers also fell by 21.8%. They bottomed around 13.9-10.9 SOL 24 hours ago. Remember that these tennis NFTs are required to play STEPN.
You are aware that STEPN is similar to a multi-chain cryptographic application which allows the gain of valuable tokens by:
the race;
walking;
jogging ;
etc
Since its launch, the game has gained popularity, specifically during the months of March and April. Lately, STEPN has teamed up with sportswear maker ASICS to launch a series of NFT sneakers.
To say that many early adopters of STEPN saw their wallet filled with rewards from the launch of the application Move-to-Earn. But that hasn't stopped skeptics from pointing the finger at its durability. Unfortunately, for players in mainland China, the opportunity that is STEPN will become inaccessible by mid-July.
Source: CryptoBrief
Receive a summary of news in the world of cryptocurrencies by subscribing to our new daily and weekly newsletter service so you don't miss any of the essential 247 News Bulletin!
Source: Cointribune